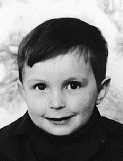 Fri, 11 Mar 2005
Apprenti trader
Akéboué: myth.

Personne célèbre qui aurait dit, au début du XXIème siècle: "Putain, c'est qui qui m'a tapé, là?"

Akébouer: v.t.

Effectuer une opération financière par erreur avec une tierce partie. Confondre test et production en est un cas typique. Ex. J'ai akéboué le CAC: Ah bon, c'était pas du test?

Akébouer: v.i.

Se prendre pour un trader (Syn. Cakébouer). Ex. Il est interdit d'akébouer ce matin: Faites gaffe, les gars.
Manifester un mépris ostentatoire par un comportement urinatoire. Ex. J'akéboue sur [censuré]: Je pisse sur [censuré] et sur la descendance de Ian sur 9 générations (Expression non comprise à ce jour).

Akéboué: n. et adj.

Se dit d'une personne dont la famille est endettée pour 7 générations lorsque l'un de ses ancêtres a tenté d'akébouer. Ex. T'as pas 1 clope, je suis un akéboué: J'ai plus de sous.
Merci, C., de m'avoir autorisé à publier ces bêtises!
Tue, 15 Feb 2005
Office famous words...
Gaétan: Excusez-moi, si je comprends bien, vous voulez faire le test en prod?
Tout le monde: Oui.
Gaétan: C'est bien ce que j'avais cru comprendre.
Gaétan: Excuse me, if I understand, you want to perform the test in production?
Everybody: Yes.
Gaétan: This is what I was afraid to understand.
Thu, 09 Dec 2004
Thunderbird 1.0 released!
Mozilla Thunderbird 1.0, the email client, was released yesterday, one month after its cousin, Firefox.
It is not sure it could have the same success (Firefox was downloaded more than 9,000,000 in four weeks), but at least it could help some people sick of Microsoft's Outlook Express to switch to a more secure (and more powerful!) product.
Reading Thunderbird's web site, you will understand that Thunderbird is probably one of the most complete email clients (especially when compared to Bill's favorite virus/worm spreader):
Safe and Secure
Thunderbird provides enterprise and government grade security features such as S/MIME, digital signing, message encryption, support for certificates and security devices.

Packed with Features
Thunderbird gives you IMAP/POP support, a built-in RSS reader, support for HTML mail, powerful quick search, saved search folders, advanced message filtering, message grouping, labels, return receipts, smart address book LDAP address completion, import tools, and the ability to manage multiple e-mail and newsgroup accounts.

Unlimited Features
Thunderbird lets you add additional features as you need them through extensions. Extensions are a powerful tool to help you build a mail client that meets your specific needs.
Still not interested? Just try it, and let me know what you think!
Tue, 09 Nov 2004
Firefox 1.0 released!
Mozilla Firefox 1.0 is out!
The Preview Release having being downloaded 8 million times, we could expect some interesting numbers with the long awaited final version!
The 6 years old Internet Explorer could have some trouble: Not only new flaws are discovered nearly every day (yesterday's one), but also M$ decided to stop the developments on the standalone version.
If you never tried a real browser, you should really have a look on this one... It's time to switch!
Fri, 22 Oct 2004
Office famous words...
Mathieu: Tu le lui a dit?
Pierre: Non, je lui parle plus.
Mathieu: Did you tell him?
Pierre: No, I don't speak to him any more.
Wed, 06 Oct 2004
Meetings famous words...
Candidate: "They made a very new real-time Java Virtual Machine.
Pierre: "Very interesting! How did they do it?"
Candidate: "They mainly developped a new garbage-collector: It releases only unused objects."
Pierre: Sorry, I have a meeting, I have to go.
Candidat: "Ils ont réellement fait une nouvelle Machine Virtuelle Java temps réel.
Pierre: "Super! Et comment ont-ils fait?"
Candidat: "Ils ont développé leur propre garbage-collector: En fait, il ne libère que les objets non utilisés."
Pierre: "Désolé, mais j'ai un meeting. Je dois y aller."
Fri, 24 Sep 2004
Not too old after all (thanks to petals around the rose!)
Forty one years old today...
But I am still able to solve the very nice Petals Around the Rose puzzle in around 30 seconds... hehehe :-)
Not so old after all!
Wed, 22 Sep 2004
France: How to have your two phone lines on one device...
As I already received some tens of questions in my office about it, here is what I did when I came back to France with my two available phone lines (France Telecom, my regular phone, and Free, the internet one).
My view was that it was not acceptable to have two phones devices just because I got two phone numbers. For instance, if I am already busy on phone, there is no way to answer a second incoming call, and I want this second call to give the caller a busy signal.
Also, I wanted to be be able to choose the outgoing line depending on my own reasons (price, destination, etc...), but again with the same phone device.
One answer could be:
Just Google a little by yourself (this is what I did a few days after I understood the issue), or have a visit to National Communication web site, and search for their Line Selector.
I hope you this could help some freebox users :)
Tue, 21 Sep 2004
Meetings famous words...
Olivier (Network): "About the connection, everything is fine... But it does not work..."
Olivier (Réseau): "C'est OK pour la connexion... Mais ca marche pas..."
Wed, 18 Aug 2004
Colère du mois: Excellent accueil à la FNAC
La FNAC m'a vraiment déçu le week-end dernier. En allant acheter une nouvelle lampe pour mon vidéoprojecteur (Hitachi PJ-TX10), le rayon vidéo m'a renvoyé au service après-vente.
Soit, pourquoi pas.
Mais voila: Le jeune homme qui nous a reçu avait l'air surpris par ma demande, et son supérieur, un homme d'une cinquantaine d'années, m'annonce, d'un air hautain:
Pas de probleme, vous n'avez qu'à déposer un acompte de 400 Euros pour commander cette lampe.
Ooops! Je lui fais part de ma surprise (c'est plus du tiers du prix du projecteur lui-même!), mais il a une nouvelle réponse de spécialiste pour un pauvre idiot de client comme moi:
Mon Brave Monsieur, ça va vous coûter dans les 5,000 (ND br: Francs, c'est à dire 760 Euros), ce n'est pas une lampe de salon. Allez donc voir chez Hitachi si vous trouvez mieux...
Imparable!! Sachant qu'il n'avait même pas daigné chercher le moindre prix (il a simplement regardé le modèle de mon appareil), j'ai préféré abandonner... J'avais spécialement apprécié au passage le "Mon Brave Monsieur" ;-)
Ca se passait a la FNAC les Halles, Paris, il y a 4 jours.
Ah, j'oubliais: Je viens de commander la fameuse lampe (modèle DT 00611) sur le net, pour 270 Euros... J'en aurai donc à peu près trois pour le prix d'une!!